BOILED EGG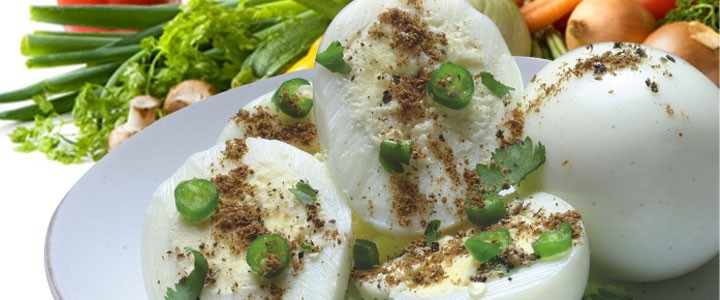 For Hard Boiled Egg: –
Place Eggs in a pan and add water to cover Eggs by 1 inch.
Boil it for 3-4 mins and then remove it from the burner.
Cover it with a lid and let the Eggs stand in hot water for 10 mins.
Now drain it and cool it under cold water. Peel, cut in half and Sprinkle the Ciba Egg Masala on the boiled eggs according to taste.
You can also add chopped Onion, Tomatoes and garnish with chopped coriander.
This Masala can be used in Curries also.
Benefits of Egg:-
(a) Keeps our muscles strong
(b) Good for our Brain
(c) Good for Eyes, Nails, Hairs, etc.
(d) Lowers the risk of Heart Diseases
(e) A stronger Immune System
Top Tip – A fresh Egg will sink in water and a stale one will float.
*Masala added in the recipe is as per standard taste. It may differ from person to person.