Chana Dal Khichdi By Taru Sindhwani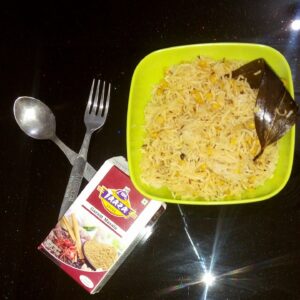 Ingredients:
Rice – 1cup
Soaked chana daal -1/2 cup
Onion – 1 cup
Garlic – 5 to 6 cloves
Ginger small piece
Spices:
Desi ghee – 1 tablespoon
Lemon juice – 1tablespoon
Bay leaves -2
Cloves – 2-3
Black peppercorns -5-7
Cumin seeds -1 tablespoon
Red chili powder – 1/2 teaspoon
Ciba Garam Masala -1 teaspoon
Salt to taste
Water -2cups
Instructions:
Wash and soak chana dal in hot water for 10 minutes.
In a pressure cooker, add ghee and heat it.
Add cloves, bay leaves, cardamom and peppercorns.
Add jeera and let it splutter.
Add chana dal, salt, turmeric powder and 1/2 cup water and pressure cook for 1 whistle.
Add onions , garlic ,ginger , rice , Ciba Garam Masala and lemon juice
Add remaining water and cook for 1 whistle and then simmer the gas.
Cook for 2-3 minutes and switch off the gas.
Delicious and healthy "Chana Dal Khichdi" is ready. Serve with raita and curd.