Chatpata Paratha By Ruchika Vineet Sapra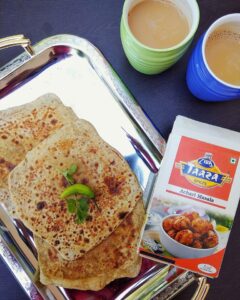 Ingredients:
Wheat flour 1 cup
Water (for kneading the dough)
Ghee 2 tablespoon
Salt (to taste)
Ciba Achari Masala 3 teaspoon
Ajwain 1 teaspoon
Instructions:
 Add 1 teaspoon ghee to flour and knead the dough using water.
Take a lemon size ball. Roll it.
Spread some ghee.
Add 1 teaspoon Ciba Achari Masala. Spread it.
Add some salt and ajwain.
Roll it in square shape.
Cook from both sides using ghee.
Enjoy with tea.