Creamy Tinda By Dipti Nikhil Gupta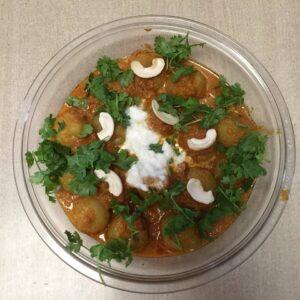 Ingredients:
200gms Milk
2 Tablespoon Pure Ghee
4 Teaspoon Milk Cream (For Garnishing)
Few Cashew nuts (For Garnishing)
        Veggies
300 gm Small & Round Tinda
3 Onions
2 Tomatoes
3-4 Piece Green Chilly
Chopped Coriander (For Garnishing)
         Spices
1/2 Teaspoon Cumin Seeds (Jeera)
Salt – As per taste
1 Teaspoon Kashmiri Mirch Powder
1/2 Teaspoon Turmeric Powder
1/4 Teaspoon Garam Masala
2 Teaspoon Paneer Masala
1/2 Teaspoon Kasoori Methi
Instructions: Recipe for Creamy Tinda (Doodhwale Tinda)
Wash & clean Tinda
Peel Their Outer layer & Trim the Tips Off
Make some tiny pores in Tinda using Fork
Add Tinda & Milk in a Pan and Boil for 20 minutes
Grind Onions in a Mixer to make a Puree
Grind Tomatoes & Green Chillies in Mixer to make Puree
In another Pan, Add Ghee and heat it
Add Cumin Seeds to the Ghee and wait for it to sputter.
Add Onion Puree in the Ghee and fry it till it turns Translucent Brown
Add Tomato& Green Chilly Puree in the Pan and Sauté it for 2 Minutes.
Add all the CIBA Spices one by one in the Pan (Salt, Turmeric Powder, Garam Masala, Paneer Masala, Kasoori Methi, Kashmiri Mirch)
Sauté and Cook the Gravy until Ghee starts to leave the Onion-Tomato Gravy
Add 1/2 Cup Water to the Gravy and keep cooking for 2 minutes
Add Boiled Tinda along with the Milk in the Gravy
Mix well and Cook for 10 Minutes
Transfer the Dish in a Serving Bowl and Garnish with Coriander, Cream and Cashew nuts
Serve Hot Tinda with Rotis/Lacha Paratha/Duppad Roti
P.S. – A Healthy & Nutritious Indian Style Tinda using CIBA Spices.
The aroma, taste and quality of CIBA masala is awesome. It makes the dish very Yummy….