Dal Tadka By Ruchika Vineet Sapra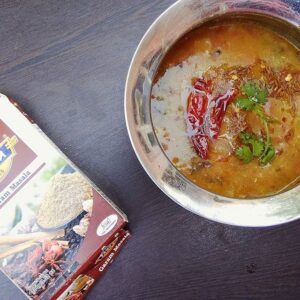 Ingredients :
Dal 1/2 cup ( equal quantities of chana dal, masoor dal, moong chilka dal and urad chilka dal)
Water 3cups
Onions ( chopped) 1/2 cup
Tomatoes ( chopped) 1/2 cup
Ginger (chopped) 1 teaspoon
Garlic (chopped) 4-5 cloves
Ghee 2 tablespoon + 1/2 tablespoon
Dry red chilly 2
Jeera 1.5 teaspoon
Red chilli powder 1 teaspoon
Ciba Garam Masala 1 teaspoon\
Green chilli ( chopped) 1 tablespoon
Turmeric powder 1 teaspoon
Coriander leaves (for garnishing)
Salt (to taste) .
Instructions :
Add dal and water in a pressure cooker along with salt and turmeric powder.
Cook for around 20-25 minutes.
Heat a pan. Add 2 tablespoon ghee.
Add 1 teaspoon jeera. Add crushed ginger and garlic and saute.
Add onions and saute.
When they turn golden brown, add tomatoes and cook for 4 – 5 minutes.
Add red chilli powder and Ciba Garam Masala.
Add this tadka to cooked dal
Let it cook more on simmer for 10-12 minutes.
Heat another pan. Add remaining ghee.
Add jeera and dry red chilly.
Pour this tadka onto dal before serving.
Garnish with coriander leaves.