FISH CURRY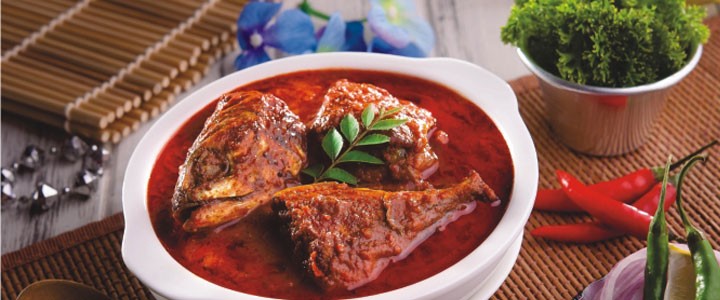 Wash 1/2kg Fish and add salt to it. Leave it for 2 hrs, after that wash it again.
Take 4 Tomatoes, 2 Green Chilli, 1 inch Ginger & ½ cup Malai, grind and sieve it.
In a pan heat 2tbsp Oil, add 2 chopped Onion, 1 ½tsp Garlic
Paste and fry them till it turns brown. Add the grounded paste and cook it till oil separates.
Add Fish, 2 tsp Kasoori Methi, Salt and Red Chilli to taste, 3 tsp Ciba Fish Masala, sauté them for 5mins, add ¾ glass water & cook on medium flame for 5mins.
Steamed Rice:-
Take 1 glass Rice, wash and soak them for 30min with 2 glass water.
In a pan, add Rice with water. After one boil, sim the gas and cover it with a lid.
Rice grains should be cooked till tender and yet separate.
Serve hot with Fish Curry.