Green Gram Spinach Ke Gatte By Somya Gupta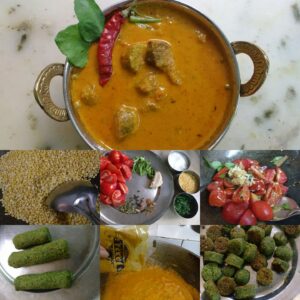 Ingredients:
Moong/ green gram powder – 2/3 cup
Besan/ gram flour – 1/3 cup
Spinach/ paalak (washed and chopped) – 1 cup
Turmeric powder 1/2 tbsp
Red chili powder 1/2 tbsp
Coriander powder 1/2 tbsp
Jeera 1/2 tbsp
Saunf – 1/2 tbsp
Oil – 6 tablespoons (3 tablespoons for preparing dough and 2 tablespoons for preparing curry,1 tablespoon for shallow frying gatte)
Water – 5 cups for boiling gatte
Hing – a pinch
Baking soda – a pinch
Ciba kitchen curry masala – 1/2 tsp
Chopped tomatoes – 1 and 1/2 cup
Chopped onions -1 cup
Ciba Garam Masala – 1 tsp
Mawa – 2 tbsp
Curd/ dahi – 1 cup
Instructions:
Take moong dal powder and besan in a bowl
Add baking soda and salt
Add chopped spinach, saunf and water.
Make a soft dough and set it aside covered for 10 minutes.
Make small lumps from this dough. The lumps should be of 0.75 inch diameter and 3 inch long rolls.
Around 3-4 such rolls can be formed from this dough.
Heat 5 cups water in a vessel and bring it to boil.
Put the rolls dipped into the water and simmer them for around 10 minutes.
Switch off the flame and take the rolls out of the vessel.
Once the gatte cools down, cut them in 1/2 inch chunks.
Heat 1 tbsp of oil in a pan
Add gatte to it. Saute for 5 minutes on medium flame.
Heat 1 tbsp of oil in a pan and then add tomatoes and onion , Ciba garam masala,and saute for 7-8 minutes.
When spices are completely done, allow them to cool down and then grind it with curd and mawa.
Heat oil on medium flame and add hing and jeera. Wait till it crackles.
Add spices now – turmeric, red chili and coriander powder.
Add ground mixture and saute for 6-8 minutes or until oil gets separated from spices.
Add gatte and pour water to the curry.
Add Ciba kitchen king masala and mix well.
Add little water if the consistency requires.
Cook it for 10 minutes and then switch off the gas.
Yummy 'Green Gram Spinach K Gatte' is ready to be served with hot chapati/ rice.