Hyderabadi Veg Biryani By Somya Gupta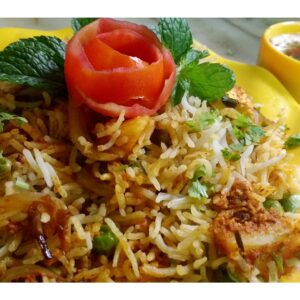 Ingredients:
Basmati rice – 2 cups
Thick curd/ dahi – 1/2 cup
Cream/ malai – 1/2 cup
Tomato/ tamatar puree – 1 cup
Paneer – 150 gms
Kashmiri red chilli powder – 1/2 teaspoon
Red chilli powder – 1 teaspoon
Turmeric Powder – 1 teaspoon
Chopped onions – 2 cups
Chopped potatoes – 1/2 cup
Chopped ginger
Chopped garlic
Chopped green chilli 1 tablespoon
Chopped coriander – as required
Ciba Biryani masala – 2 tablespoons
Salt as per taste
Oil 6 tablespoons
Milk 1/2 cup
Kesar 1 pinch
Green peas 1/2 cup
Instructions:
Wash rice and soak them for 1 hour in sufficient water .
Prepare marinate mixture for paneer with tomato puree, cream, curd, kashmiri chilli powder, turmeric powder and red chilli powder
Cut paneer in cubes and marinate paneer in the mixture for 1 hour.
Cook rice (almost 75%) with green peas in a pressure cooker and kept separately
Add kesar in a warm milk in a separate bowl.
Heat 3 tablespoons of oil in a pan
Fry potatoes in the oil till half cooked.
When potatoes are half cooked, add marinated paneer to the pan
Add Ciba Biryani Masala and cook for 8-10 minutes on medium flame.
Add salt as per taste
Heat 3 tablespoons of oil in a cooker and add half of the onions.
Saute onions till become brown in color and kept separately
Add remaining onions in the remaining oil
Add chopped ginger, garlic and green chillies.
Saute it for 4-5 minutes on medium flame.
Reduce the flame to low.
Spread 4 tablespoons of paneer and potato mixture in the pressure cooker and make a layer.
Now spread 6 tablespoons of rice with peas
Sprinkle fried onions, chopped coriander and mint leaves.
Repeat this process 2 times
And when last layer gets finished, sprinkle kesar milk.
Cover the cooker and cook for 7-8 minutes on low flame.
Delicious and spicy 'Hyderabadi Veg Biryani' is ready to get served with raita