Jal Jeera By Ruchika Vineet Sapra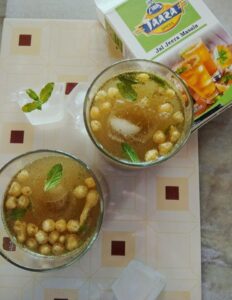 Jaljeera: (using Ciba Taaza Spices Jal Jeera Masala)
Ingredients :
Ciba Taaza Jal Jeera Masala 2 tablespoon
Boondi 2 teaspoon
Water 2 cups
Mint leaves 8-10
Ice cubes
Instructions :
Add one tablespoon of Ciba Jal Jeera Masala to each glass.
Add 1 cup water to each glass
Garnish with boondi and mint leaves.
Add ice cubes ( if required).
P.S.: No need to add any other masala to it. Ciba Jal Jeera Masala has the perfect balance of flavors and citric amount. Hence, it aids digestion and does not cause irritation.