Macaroni By Taru Sindhwani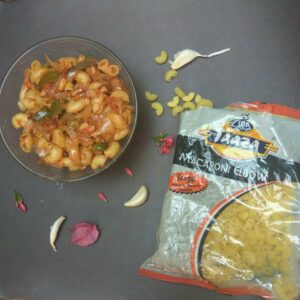 Ingredients:
CIBA MACRONI ELBOW- 1 cup
Onion- 1
Capsicum(small)- 1
Tomato- 1
Garlic – 3-4 cloves
Tomato ketchup- 1 teaspoon
Black pepper – 1/2 teaspoon
Red chilli-1/4 teaspoon
CIBA OREGANO & RED CHILLI FLAKES – 1/2 teaspoon
CIBA GARAM MASALA-1/2 TEASPOON
Salt according to taste
Water-11/2 cup
Oil-1 tablespoon
Instructions:
First of all we have to chopped Capsicum, onion, tomatoes.
Then boil CIBA MACRONI ELBOW with some Salt & oil in it.
On another side heat the pan & put chopped vegetables
Saute the vegetables
Add Ciba Black Pepper Powder
Add Ciba Garam Masala, Ciba Red Chilli powder in it.
Add boiled Ciba Macaroni.
Finally put tomato ketchup & splutter Oregano & Chilli Flakes
Your MACRONI is ready to eat.