Malai Corn By Neelu Dua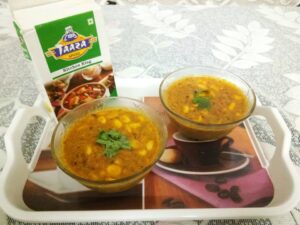 Ingredients:
American corns one cup
Chopped Onion 2
Chopped Tomato 2
Ginger garlic paste 2tsp
Jeera 1tsp
Ciba Red Chilly Powder 1tsp
Salt according to taste
Turmeric powder 1/2 tsp
Ciba Kitchen King Masala 1tsp
Chopped Coriander leaves 1 spoon
Oil 1tbsp
Malai or cream 3 tbsp
Instructions:
Heat the oil in a pan.
Add cumin seeds and let them crackle.
Add finally chopped onions and saute them.
Now add ginger garlic paste and saute for 5 mins
When it's aroma comes then add chopped tomatoes & mix properly
Saute till tomato becomes mushy.
Now add boiled corns and salt
Add Ciba Black Pepper, Ciba kitchen king masala and stir well.
Add fresh cream or malai in it.
Now it's ready.
Garnish it with chopped coriander leaves.