Masala Bharwa Baigan By Nirmal Kapur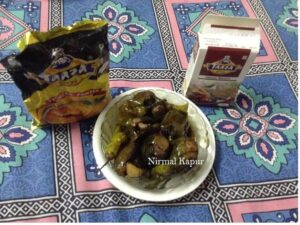 Ingredients:
5-6 small baigans
4-5 tablespoon oil
2 tbsp cashews
2 tbsp poppy seeds
4 tbsp coconut, grated
Salt to taste
1 tsp Ciba Turmeric Powder
2 tsp Ciba Red Chilli Powder
1 tsp Ciba Coriander Powder
1 tsp Ciba Garam Masala Powder
Juice of 2 lemons (optional)
Instructions:
Take the baby eggplant and slit it from the center.
Make a fine paste of cashew nut, poppy seeds, graded coconut.
Take it out in a bowl.
Add Ciba Red Chilly Powder, Ciba Turmeric, Ciba Garam Masala Powder
Add salt as per taste in paste
Mix it well.
Stuff baigans with this masala and keep aside.
In a pan, add oil
Place all the stuffed masala baigan to the pan
Fry them till they start to leave oil.
Masala Bharwan Baigans are ready to serve