Matar Paneer By Somya Gupta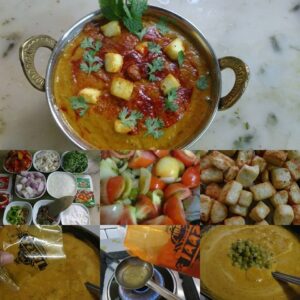 Ingredients:
Paneer – 200 gms
Boiled peas/ matar – 1 cup
Chopped tomato – 1 cup
Chopped onions – 1 cup
Curd/ dahi – 1 cup
Cream/ malai – 1/2 cup
Chopped ginger and chilli – 1 tablespoon
Ciba Garam Masala – 1/4 tsp
Oil – 6 tablespoons
Jeera – 1/2 teaspoon
Turmeric powder – 1/2 teaspoon
Red chili powder – 1 teaspoon
Coriander powder – 1 teaspoon
Ciba kashmiri mirch powder – 1 teaspoon
Ciba kitchen king – 1 teaspoon
Salt as per taste
Ghee – 1 tablespoon
Instructions:
Heat 4 tablespoons of oil in a kadhai
Fry paneer until light golden colour. Take out paneer from oil.
Add whole garam masala and saute for 2 minutes.
Add ginger and chilli and saute for 2 minutes.
Add onions and saute for 5 minutes.
Add tomato and cook for 10 minutes.
Take out onions and tomato masala from the pan and let it cool down.
When masala completely cools down, grind it.
Heat 2 tbsp of oil in a pan and add cumin seeds to it.
When seeds crackle, add turmeric, red chili powder, coriander powder and saute the mixture for a minute.
Add onion tomato paste. Saute for 3-4 minutes
Add beaten curd and cream. Continuously stir the curry to avoid curdling in it.
When gravy reaches to boiling temperature, add paneer and peas.
Add kitchen king masala
Add salt and then cook for 5-7 minutes.
Add garam masala and sprinkle coriander leaves for garnishing. Switch off the gas.
Heat ghee in a separate pan and then add kashmiri mirch powder. Pour the tadka on matar paneer curry.
Delicious and rich curry 'Matar Paneer' is ready to be served with naan/ roti/ rice.