NON VEG BIRYANI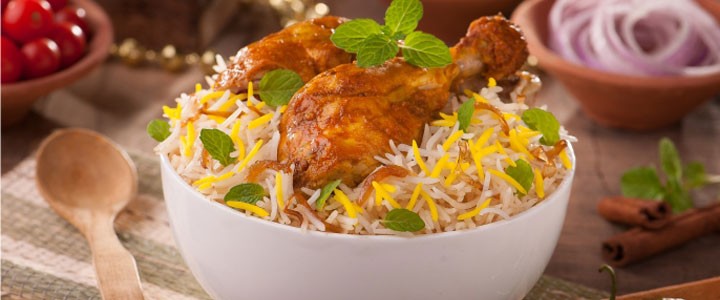 Non Veg Biryani:-
Gravy:-In a bowl add ½ kg Chicken, 3 tsp Oil, ½ cup Hung Curd, 1 ½tsp Ginger-Garlic Paste, 8
Green Chillies chopped, Salt to taste, 1 ½tsp Ciba Chicken Masala and mix well. Put in an air tight
box for 4 hrs in fridge. Heat 2tbsp oil in a pan, add 1 sliced Onion, marinated Chicken, 2tsp
Biryani Masala & let it cook.
Rice:- In 1 ½ glass Rice add Salt, 1tsp Lemon Juice and cook until rice is 70% cooked. Strain
excess water.
Assemble:- Add 2tsp Ghee in a vessel (flat heavy base). Make 4 alternate layers- 2 gravy & 2 rice.
On every layer of Rice sprinkle 1tsp ghee, 1 ½ sliced Onion (deep fried), 5 Saffron threads soaked
in warm Milk, chopped Mint & Coriander Leaves. Cover with lid & seal edges with flour dough.
Let it cook for 10 mins on sim gas. Serve hot with Raita.
*Masala added in the recipe is as per standard taste. It may differ from person to person.
(Serving for 4 Person)