Paneer Bhurji By Ruchika Vineet Sapra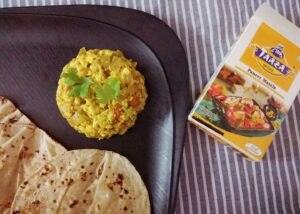 INGREDIENTS :
Paneer 200 gms
Onions (chopped) 1 cup
Tomatoes (chopped) 1/2 cup
Green chilli (chopped) 1 tablespoon
Ginger (chopped) 1 teaspoon
Ciba Taaza Spices PANEER MASALA 1 tablespoon
Salt (to taste)
Turmeric powder 1/2 teaspoon
Red chilli powder 1/2 teaspoon
Ghee 1 tablespoon
INSTRUCTIONS :
1. Heat ghee in a pan.
2. Add chopped ginger and saute.
3. Add chopped onions and saute them.
4. Add tomatoes and cook on sim for 2-4 minutes.
5. Add salt, red chilli powder and turmeric powder.
6. Add Ciba Taaza Spices PANEER MASALA.
7. Mix well.
8. Mash the paneer and put it in pan.
9. Mix and cook for 4-5 minutes.