Pithod Do Pyaza By Somya Gupta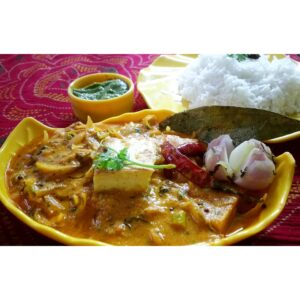 Ingredients:
For Pithod
Gram flour/ besan – 1/2 cup
Salt/ namak as per taste
Water/ pani – 1 and 1/2 cup
For Gravy
Oil/ tel – 4 tbsp
Cumin seeds/ jeera – 1/2 teaspoon
Turmeric/ haldi – 1/2 teaspoon
Red chilli/ lal mirch powder
Coriander/ dhaniya powder
Saunf
Garam masala
Salt to taste
Curd/ dahi – 1 cup
Tomato/ tamatar puree – 1/2 cup
Chopped onions – 1 cup
Ciba kashmiri chili/ mirch – 1 teaspoon
Ciba kitchen king masala – 1/2 teaspoon
Chopped coriander leaves – a handful
Instructions:
Take a microwave safe bowl and mix all ingredients of pithod
Make a thin batter by adding water as required.
Take a bowl and add curd, red chilli powder, coriander powder, turmeric powder, saunf, garam masala, ciba kashmiri mirch, salt and kitchen king.
Mix well and keep aside.
Cook pithod in the microwave for 2 minutes.
Remove and beat the batter. Again, cook for 2 minutes in the microwave.
Remove and beat again. For the last time, cook for 1 minute in the microwave and beat.
Spread it on a plate. Thickness should be 1/2 inches. Cut them into rectangular shape once it is cooled down.
Take a nonstick tawa and shallow fry pithod until golden in color using 1 tablespoon of oil.
Heat oil in a pan and add jeera to it.
When jeera crackles, add onions and saute for 4-5 minutes.
Add tomato puree to it. Saute 4-5 minutes.
Add curd and all the spices. Stir continuously on low flame.
When the masala is cooked(oil being separated from the sides)
Add pithod in the gravy.
Simmer and cook the pithod with the gravy for 4-5 minutes so that all the flavors are well absorbed into the pittod.
An indication for the cooking is done when the gravy leaves the oil and we get a oily layer on the top.
Sprinkle coriander leaves and switch off the flame.
Delicious 'Pithod Do Pyaza' is ready now. Serve hot with roti/phulka/naan/rice and enjoy.