Poha Cutlet By Vagisha Gupta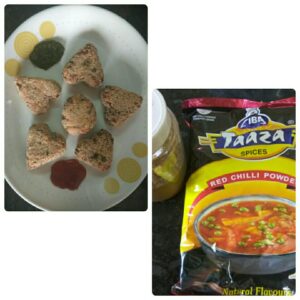 Ingredients:
Thick Poha (Beaten rice) – 2 cup
Boiled potatoes – 3
Grated carrot – 2
Green chilli(chopped) – 2
Coriander leaves (chopped)- 2 tbsp
Salt -1/2 tsp
Chaat Masala – 1/4 tsp
Garam Masala – 1/2 tsp
Chilli powder -1/2 tsp
Black pepper powder – 1/2 tsp
Dry mango powder(Amchur) – 1/4 tsp
Oil- 1 tsp
Cornflour- 1tbsp
Bread crumbs (For coating)
Oil (for deep frying)
Instructions:
Wash and Soak the poha in water for 20 mins. Drain it using the strainer.
In a bowl add the boiled  and mashed potatoes, soaked poha and all the other ingredients except breads crumbs.
Mix well together to form a dough.
Grease your hands with oil. It prevents the dough from sticking.
Now make the cutlets by giving it a heart shape.
Coat the cultets in bread crumbs(Optional)
Deep fry the cutlets on a medium flame. (can shallow fry also)
Serve with coriander chutney or tomato ketchup.
P.S. – In this recipe I have used Ciba red chilli powder, Ciba poha, Ciba garam masala.
The aroma, taste and quality of Ciba masala is amazing. It makes the dish delicious n tasty..