Soupy Macaroni By Neelu Dua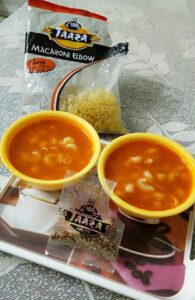 Ingredients:
Tomato 500 gm chopped
One onion big roughly chopped
Garlic cloves 5-6
Salt according to taste
Black pepper half teaspoon
Ciba Macaroni masala
Butter one table spoon
Macaroni half cup
Instructions:
Take 3 cup water in a pressure cooker.
Add roughly chopped onions, tomatoes & garlic in it
Add half teaspoon of salt in it
Boil it up to 4-5 whistles
When it cool down strain it & grind it in smooth paste.
Put the macaroni in boiling water with little salt. After boiled strain it in a strainer & put cold water on it.
Take a pan.
Add butter in it. Then add fine chopped garlic in it. Saute it for 2 min.
Now add paste of tomatoes in it and add water in it.
Put salt and pepper in it.
When it becomes thick add boiled macaroni and ciba macaroni masala in it.
Serve hot.