Soya Chaap Nugets By Taru Sindhwani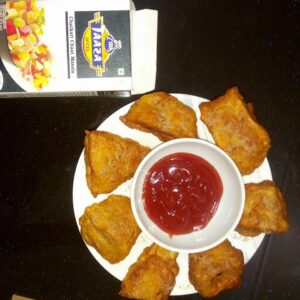 Ingredients:
Soya chaap – 2-3
Flour- 2 tbsp
Garlic paste -1 tsp
Red chilli – 2 tsp
CIBA CHAAT MASALA- 1teaspoon
Salt according to taste
Oil
Water
Tomato ketchup
Instructions:
Take soya chaaps & cut into pieces
Marinate soya chaap with some salt ,red chilli ,CIBA chat masala & leave it for 10 min.
Take flour in a separate bowl
Add water to it & make a consistent batter
Then add garlic paste ,salt & red chilli to the batter
Then put marinated chaap to the batter
Heat oil in a pan
Deep fry the chaap
Then sprinkle some CIBA CHAAT MASALA to it.
Garnish it with tomato ketchup or green chutney.