Soya Granules with Pav Bhaji By Bishakha Kumari Saxena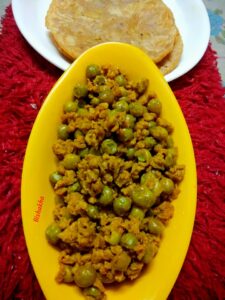 Ingredients:
1 cup soya granules
1 cup matar
1 tablespoon Onion paste
1 teaspoon ginger garlic paste
1 teaspoon turmeric powder
1 teaspoon coriander powder
1 teaspoon red chilli powder
1 tablespoon Ciba Taza Pav Bhaji masala
1 teaspoon cumin seeds
Salt as per taste
Oil
Instructions:
Soaked the soya granules in warm water for 10 minutes.
Heat oil in a kadhai
Add cumin seeds till it crackles
Then add onion paste, ginger and garlic paste
Saute it for 2 minutes.
Then add salt, red chilli powder, coriander powder, Ciba Taza Pav Bhaji masala powder and saute for 2 minutes
Then add matar, soya granules and saute it.
Then Cover the lid and cooked on a low flame for 10 minutes.
Your sabzi is ready for serving with chappati, Puri, paratha