Spicy Rice Cake By Priya Vicky Garg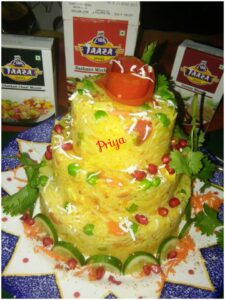 Ingredients:
Rice 1 nd 1/2 cup
Water 3 + 1/2 cup
Ciba Taaza Salt to taste
Ciba Taaza Garam Masala 1/2 tspn
Turmeric powder 1/2 tsp
Ciba Taaza kashmiri Lal Mirch powder to taste
Veggies as peas , carrot, onion, potato and tomato.
Paneer  1/2 cup diced
Oil 2 tbsp
Jeera 1 tsp
Rai 1/2 tsp
For garnishing
Chopped Coriander leaves
Pomegranate seeds
Cucumber slices
Grated Paneer
Ciba Taaza chatkari Chaat Masala
Instructions:
Soak rice into water for 15 mins
Heat oil in a pan and then add jeera
Then add long slices of onion and potatoes. Saute them .
Now add grated Carrot and peas
Then add grated tomato
Cook till it becomes mushy
Add haldi powder, salt, red chilly powder and garam masala.
Cook till it leaves oil.
Add water and boil it .
Add rice and give a boil. Then cook them on low flame till cooked.
Asembling:
After cooked , put into 3 boxes of round shape with different sizes .
Keep aside for setting for 20 minutes.
After set, arrange into plate firstly demould bigger box rice then middle size on the first , at last set on the top smaller size rice cake
Now sprinkle Ciba Chatkari Chaat Masala on cucumber slices.
Spicy Rice Cake is ready.