Sprouts Salad By Ruchika Vineet Sapra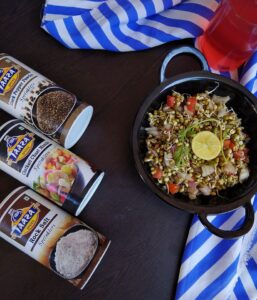 Ingredients:
Sprouts 1 cup
Onions (chopped) 1/2 cup
Tomatoes (chopped) 1/2 cup
Green chilli (chopped) 1 tablespoon
Ciba Taaza Spices ROCK SALT 1 teaspoon
Ciba Taaza Spices BLACK PEPPER POWDER 1/2 teaspoon
Ciba Taaza Spices CHATKARI CHAAT MASALA 1 teaspoon
Lemon juice 1 tablespoon
Instructions:
Take Sprouts in a bowl.
Add onions, tomatoes, green chilli and mix well.
Add Ciba Rock Salt, Ciba Black Pepper Powder and Ciba Chatkari Chaat Masala.
Mix well.
Add lemon juice and mix.
Garnish with coriander leaves.