Thalipeeth By Poonam Bachhav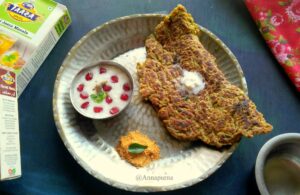 Ingredients: 1 cup = 200 ml
1 and 1/2 cup Thalipeeth Bhajani (multi grain flour)
1 large onion, finely chopped
1 small bunch of fresh Coriander
Butter milk or warm water as per need to make the batter
2 green chilies
4-5 garlic cloves
1/2 inch ginger piece
3-4 tablespoon oil
1 teaspoon red chilly powder
1 teaspoon garam masala
1/4 teaspoon turmeric powder
1/4 teaspoon carom seeds
A pinch of hing
Salt to taste
Instructions:
Grind garlic, ginger and green chilies together either in a mortar and pestle or in a grinder. Keep aside.
In a mixing bowl take the multi grain flour.
Add the ginger garlic and chilly paste, chopped onions, finely chopped fresh coriander leaves.
To it add the spice powders (turmeric powder, asafoetida, Carom seeds , red chilly powder and garam masala) , salt and 1 tablespoon oil.
Mix everything well .
Now make a thick batter of this mixture using warm water or butter milk. If making by traditional method by directly patting the batter on the skillet, the batter can be little thin.
The other easy option is to first pat the dough using our palms on to a greased zip lock bag or butter paper and then transfer it to the skillet.
In this case the dough should be firm, so adjust the amount of water or buttermilk accordingly.
Divide the dough roughly into 4 parts. First we will see the traditional method.
Heat a non stick skillet and grease it with oil. Take one portion of the dough and place on the center of the skillet.
Wet your palms and pat the dough with fingers to spread it in a small round flat bread.
Make 4-5 holes in the thalipeeth .
Add 1 teaspoon of oil to the edges and let it cook on medium heat for 1 minute or until the side becomes crispy.
To make the thalipeeth in an easy way, take a greased butter paper or zip lock bag and keep on the working counter.
Place the firm dough at the center. Grease the palm and fingers with oil.
Pat the dough to spread it evenly.
Do not pat the dough very thin on the plastic sheet as it will not come out easily.
Now either transfer it carefully on the palm and then place it over a skillet. Or directly transfer the thalipeeth on the heated skillet and then slowly pull the butter paper out
Make 3-4 holes on the thalipeeth using your index finger or back of a spoon .
Add little oil through the edges and in between the holes .
Cook the thalipeeth from both the sides until it turns golden brown and crisp.
Remove the thalipeeth on to a plate.
Top it with a dollop of home made butter and serve it with a spicy raw Mango Pickle or spiced buttermilk (Mattha) and enjoy with your loved ones