Sambar By Ruchika Vineet Sapra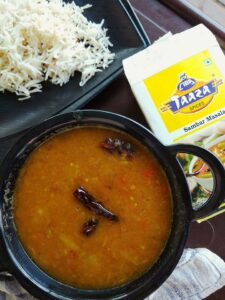 SAMBAR WITH RICE
Time to cook – 45 mins
Servings – 4 person

Ingredients
Veggies
Lauki/ bottle gourd (chopped) – 1/2 cup
Pumpkin(chopped) – 1/2 cup
Carrot (chopped) – 1/2 cup
Tomatoes (chopped) – 1 cup
Onion (sliced) – 1/2 cup
Curry patta- 8-10
Spices
Tamarind pulp – 1 teaspoon
Oil – 1 teaspoon
Mustard seeds- 1/2 teaspoon
Dry red chilli – 2
Red Chilli powder – 1/4 teaspoon
Turmeric powder – 1/2 teaspoon
Ciba Taaza Sambhar Masala – 2 tablespoons
Water- 5 cups
Salt (to taste)

Instructions
In a pressure cooker, add dal and all the chopped veggies except onions and tomatoes.
Add half cup tomatoes, one tablespoon sambhar masala, red chilli powder, turmeric powder and salt.
Add water and cook for 30 minutes. When the dal gets cooked, mash it with a ladle.
Heat oil in a pan to prepare tadka. Add mustard seeds and curry leaves.
Let it splutter. Add dry red chillies.
Add sliced onions and remaining tomatoes. Saute for around 5-7 minutes.
Add remaining sambhar masala and tamarind pulp to tadka.
Add tadka to dal.
'Vegetable Sambhar' is ready to be served in your meals.