PAV BHAJI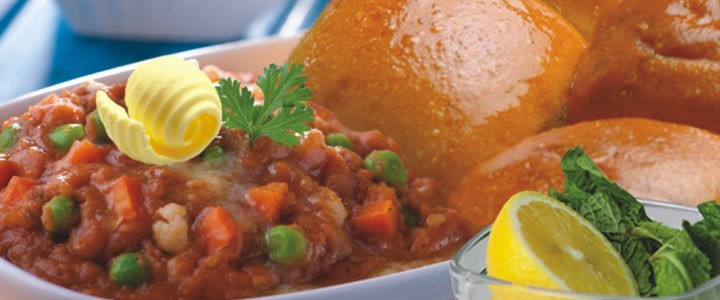 Take 1 Cabbage, 1 Cauliflower, 3 Potatoes, 1 Green; 1 Red; 1 Yellow Capsicum, 2 Carrots and chop them.
Put them in a pressure cooker with 1 cup water.
Pressure cook till 3 whistles.
In a kadai heat 3 tbsp oil, add 10 chopped Garlic pcs, 2 Onion, let it cook, then add 5 tomatoes, 4 tsp Ciba Pao Bhaji Masala and Salt to taste.
Once tomatoes are soft, add boiled vegetables.
Mash them with Potato masher, add ½ cup boiled Peas and cook for 15min.
Garnish with chopped Coriander.
Masala Pav:-
Heat a pan, add 1 tbsp butter, 2 chopped Garlic pcs, 2 Onion, ½ Green Capsicum, 2 Tomato and 1 tsp Ciba Pao Bhaji Masala.
Apply butter on the Pao/Bread/Bun and toast it from both sides on a pan.
Spread the Masala between the Pao/Bread/Bun.
It can be served as a Snack with Tea.
(Serving for 4 people)
*Masala added in the recipe is as per standard taste. It may differ from person to person.