ALOO METHI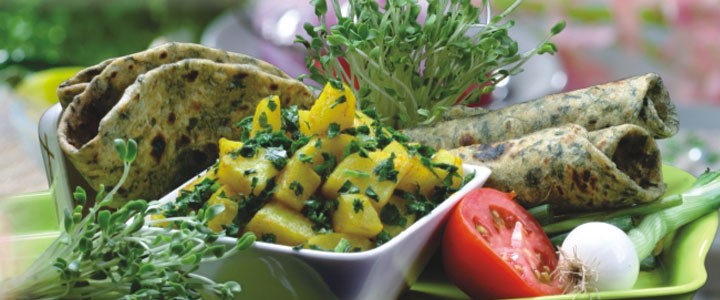 Aloo Methi: –
In a kadai; heat 1 ¼ tbsp oil, add ¾ tsp Cumin and let it crackle.
Add 5 peeled &
diced potatoes, ½ tsp Turmeric Powder, Salt to taste and ½ cup water.
Cover and let it cook till potatoes become soft.
Add 2 finely chopped tomatoes, ¼ tsp Chilli Powder, 1 tsp Coriander Powder and 1 tsp Ciba Kasoori Methi
Let it cook for 5 min.
Serve hot with Chapatis/Paranthas.
(Serving for 4 people)
Health Benefits of Fenugreek Seeds & Leaves are:-
(a) Reduces risk of Heart Diseases
(b) Lowers your Blood Cholesterol
(c) Controls Blood Sugar Level
(d) Increases Breast Milk Production in Lactating Women
(e) Helps in digestion and losing weight
(f) Induces and eases Child Birth
*Masala added in the recipe is as per standard taste. It may differ from person to person